$19,741.00
78% Raised of $25,000 Goal
Donations and Sponsorships Will Continue to be Accepted Until our Goal is Reached!
Join us for the 9th Annual HAVEN Free Clinic 5K on Sunday, October 8
The in-person HAVEN 5K is back! Join us in celebrating HAVEN and helping support its mission. We know we will be well on our way to another successful event and continue to raise MORE for our patients at HAVEN.
100% of the proceeds will go towards patient care. Learn how you can be a part of this great cause.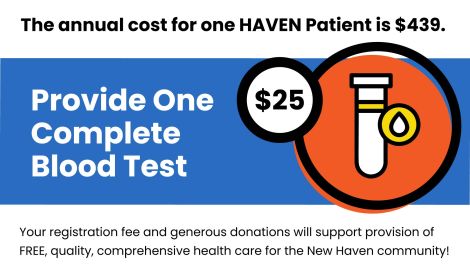 ---
CORPORATE SPONSORS (2023)
Yale Office of New Haven and State Affairs | Yale New Haven Hospital | Yale School of Medicine
mActivity | Yale School of Public Health | 94.3 WYBC
---
CORPORATE SPONSORS (2019)
94.3 WYBC | Black Hog Brewing | Blue State Coffee | Caffe Bravo | CrossFit Science Park | Devil's Gear Bike Shop | Executive Cleaners | Koffee Katering | Lululemon | Mecha | Sherkaan | Solomon Center for Health Law and Policy | Subway | Two Roads Brewing Company | Yale | Yale Graduate & Professional Student Senate | Yale New Haven Health | Yale School of Public Health
---
CORPORATE SPONSORS (2018)
Alvarium Brewery | Beer Collective | Black Hog Brewing | Blue State Coffee | Breathing Room | CarHavn | Claire's Corner Copia | Cliffside Brewing | CrossFit Science Park | Devil's Gear Bike Shop | Euphoria Salon | Executive Cleaners | Gouveia Vineyards | Hartford Yard Goats | mActivity | New England Brewing Company | No Worries Brewing Company | Patagonia | Rosh Review | SHiFT Cycling & Balance | Shubert Theater | Stony Creek Brewery | Subway | T-Swirl Crepe | Thimble Island Brewery | Two Roads Brewing Company | Yale New Haven Health