Note, we are good to go for the walk even with rain forecast! We have an indoor space at Calvary for our kickoff and finish line if needed. See you on April 29 at 2pm, rain or shine!
The Sojourner Truth Walk 2023, Saturday April 29, 2-5pm, will primarily be back to our pre-pandemic format. We will gather in person and march through the streets. However, we will also have a virtual option for people best able to engage that way. Below are descriptions of both options. When you register, you will let us know how you plan to attend.
Sojourner Truth Walk 2023: Attend in person at the Calvary Center for Community and Culture
We will be meeting at the Calvary Center for Community and Culture (801 S. 48th St.), with the block closed off to traffic*. Check in to pick up walk t-shirt starting at 2pm, warm-up and roll call of teams starting at 2:30pm, walk itself starting at 3pm. See route below. At the opening gathering, we will have a table with art supplies to make a sign for the person you are walking in honor of, a face art table, drumming, and snacks. We will also have information available for you to get involved in local food justice work.
The 5K walk itself will circle two local parks and end back at Calvary for our finish line celebration. We will have drummers, food, speakers, and a chance for people to share about the person they chose to walk in honor of.
*In case of rain, we will be inside in the Calvary Chapel, with masks for COVID safety in large numbers.
(Sojo campers at the walk in 2019.)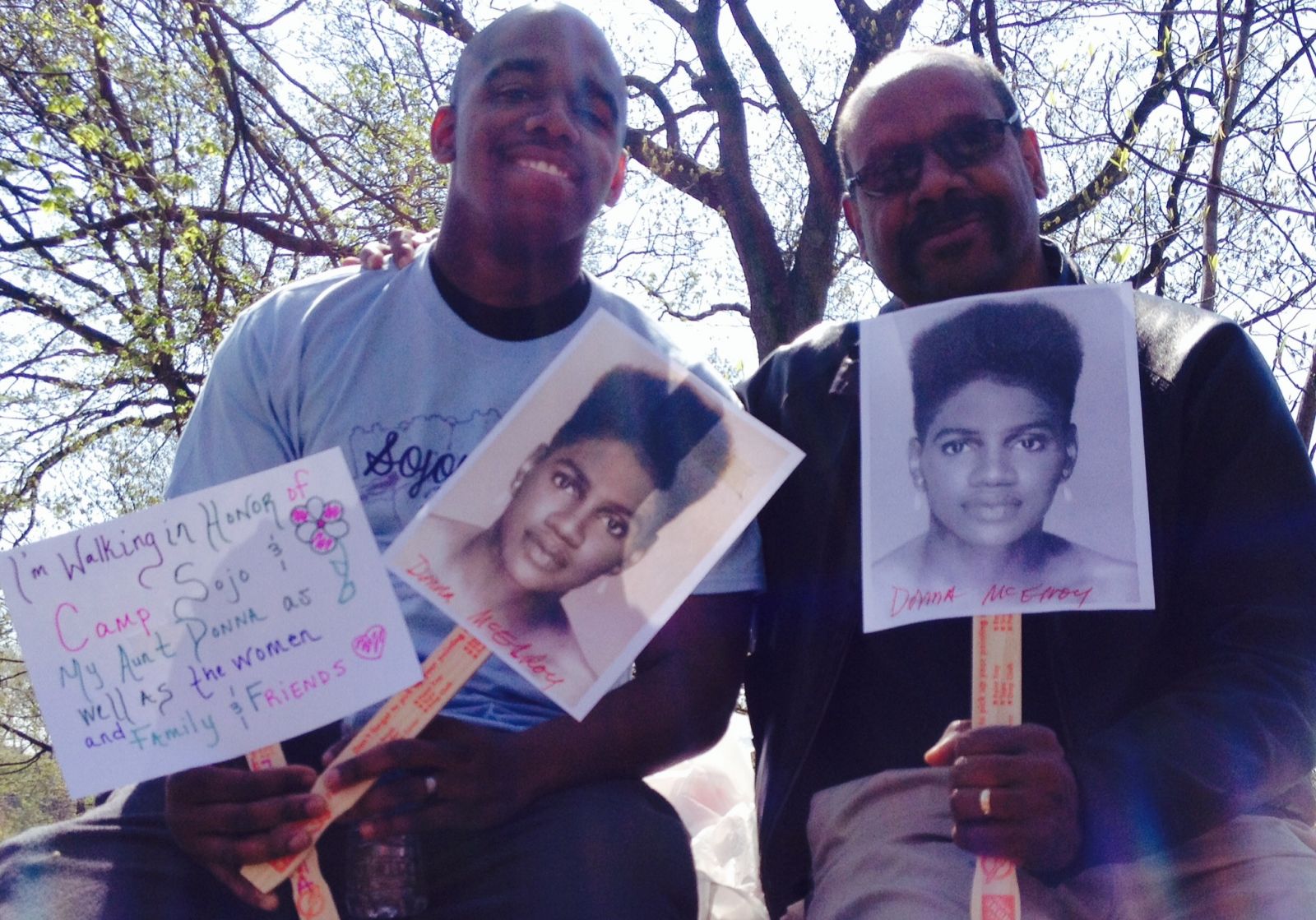 (Participants and their honorees.)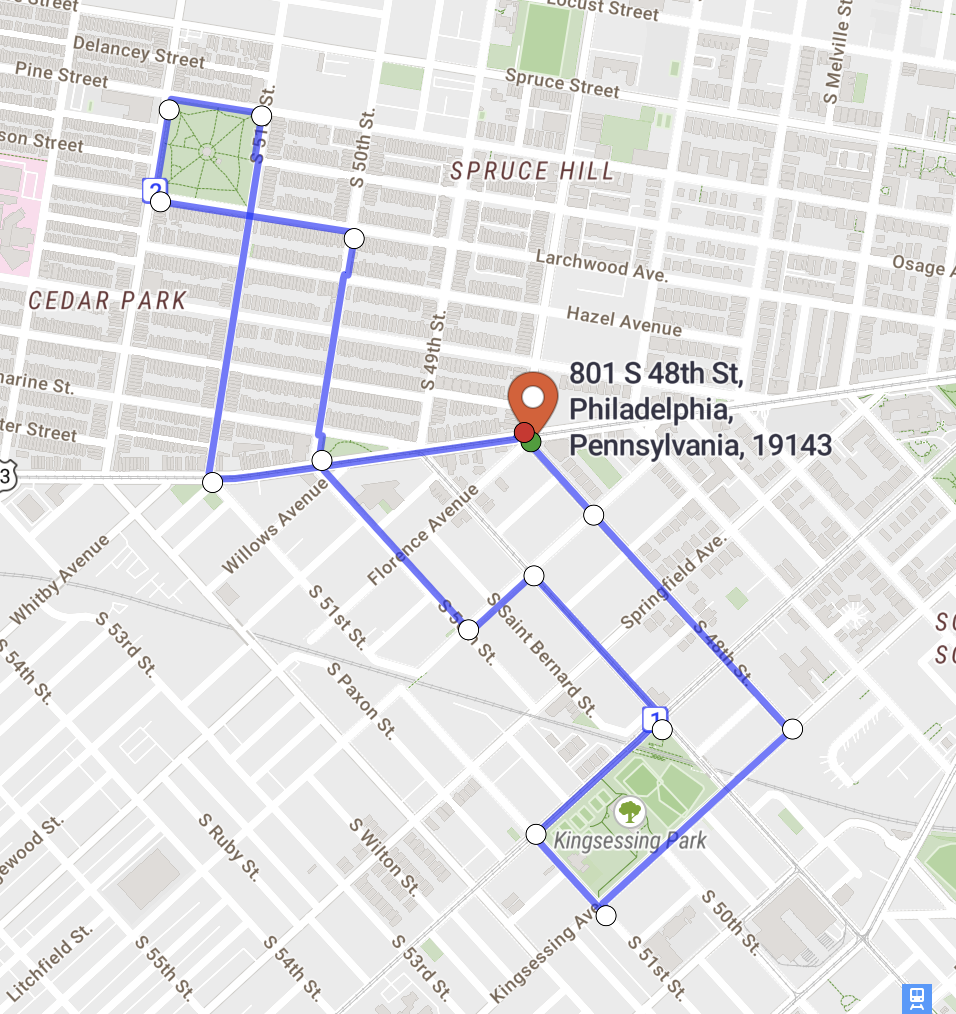 (Walk route and launch point 2023)
Sojourner Truth Walk 2023, Attend live virtual event!
For people best able to participate virtually, you can participate in the Sojourner Truth Walk 2023 via Zoom, from 2:30-3:30pm. We will do roll call of teams all at the same time, stream speakers and performers on Zoom, and when we showcase honorees, we will highlight people both online and in-person. Online facilitators will keep things poppin, and we will share comments by online participants at the in-person event. Both groups will feel the Sojo love and connect with each other that day!
(One of the screens from Sojourner Truth Virtual Walk 2020)
Why Food Justice?
In Philadelphia, disparities in the availability of fresh, healthy food in various neighborhoods track closely with statistics on race and class, and has led to greater negative health outcomes for people who don't have access. The pandemic has exacerbated food access issues. Camp Sojourner has partnered with
Sankofa Farm
for the past twelve years, an intergenerational, African-Diasporic, spiritually-rooted farm, to help build their community garden beds and grow affordable organic produce with Southwest Philadelphia residents; several Camp Sojourner teens have served as leaders in their program. This year, we are honoring Sankofa Farm and their local Food Sovereignty work, as well as
Fannie Lou Hamer
, a civil rights activist who started the
Freedom Farm Cooperative
. We will have groups at the event tabling to give information about ways people can get involved in local food justice and sovereignty efforts, and we will have resources available for people interested in growing their own food at home.
Here's how to participate in the 2023 Sojourner Truth Virtual Walk:
1) Register for the event on our walk website. There is a free registration option. You have to be registered by April 20 in order to be guaranteed an event t-shirt.
2) Join or form a team if you are able, to help us raise money to support Philly girls and families during this time.
3) Post a picture of the person you are walking in honor of to your own social media, and use hashtag #SojoWalk2023. We will repost on our social media.
4) Participate in our live event on April 29, either in person or on Zoom.
CLICK here
to view pictures from previous Sojourner Truth Walk.
Notes about registration:
This is a family-friendly event--all are welcome!
Adult registration (18 and older) is $25 per person. Youth registration is $10. (Youth under 8 are not required to register but will not receive t-shirts at the event.) Alternately, you may select "Fundraiser Registration" at zero cost, with the expectation that you will cover the registration fee through money raised with your fundraising page. If you do not raise the fee ahead of the walk, you will have the opportunity to complete your registration the day of the event, or you may not receive a t-shirt. Please reach out to us if you have special circumstances:
[email protected]
. Virtual local participants can pick up their t-shirts and finish line beads the week before event.
Fundraising page: When you register, you will automatically receive an email with a link to your fundraising page. This page is activated when you click on the link, and you are able to customize it with your own pictures and text. We encourage you to spread the word about the event to as many people as possible--friends, family, coworkers, everyone!
Create or join a team during the registration process. Alternately, you may join a team from your fundraising page. Teams are welcome to show their team spirit in a variety of ways (signs, props, costumes).
Proceeds
: All proceeds benefit
Camp Sojourner, Girls' Leadership Camp
, a nonprofit leadership development program for Philadelphia girls/youth, which offers year-round leadership workshops, service projects, and arts programming along with our annual week-long summer camp -- all on a low-cost, sliding scale for families.
If you would like to make a donation by check, please address it to "Camp Sojourner / MAP"/ 801 S. 48th Street/ Philadelphia, PA 19143.
Here are a few examples of how your contribution can make an impact:
$30 = Summer camp t-shirts for 4 girls
$80 = Round trip transportation for 10 girls to participate in a local college tour
$100 = Cost of food and supplies for 1 leadership workshop for 20 girls
$350 = Suggested minimum family contribution for 1 girl to attend our week-long overnight summer camp.
$1250 = Actual cost to send 1 girl to week-long overnight summer camp or two-week day camp.
This event is named in honor of Sojourner Truth, an American abolitionist, women's rights and economic justice activist, who escaped slavery and then fought to end it. She, along with many others, has served as an inspiration and role model for generations to come. We are walking in their footsteps!
Thank you for supporting Camp Sojourner and the leadership of girls/youth!