The Sojourner Truth Walk 2021 will have two ways of participating: in person and virtually. Below are descriptions of the event, which will happen simultaneously, Sunday May 23, 1-2pm. When you register, you will let us know how you plan to attend.
Sojourner Truth Walk 2021: Attend in person at Bartram's Garden!*
We will be meeting at Bartram's Garden (5400 Lindbergh Ave) in the meadow just next to the parking lot, for a one hour event including drumming, dance, speakers, chanting, symbolic march around the perimeter led by youth, and opportunity to share your teacher honoree. This format was planned as a way to have an in-person event but still maintain physical distance and mask wearing to minimize COVID risk. We promise it will be a poppin Sojo vibe, with great music, epic view of the city skyline, and a chance to connect with inspiring people! Card stock and markers will be available for you to make a sign, honoring a teacher in your life. We will also have information available for you to get involved in local justice work.
*Thank you to the Bartram's Garden/Sankofa Farm Staff who have generously shared their space with us for this event. We have been collaborating with them for the past 8 years, bringing our Sojourners to work on the farm year-round. We are honored to support their efforts providing affordable, organic produce to the local neighborhood, as well as youth leadership development.
(Meadow at Bartram's Garden where we will gather, next to parking lot.)
(Sojo campers at the walk in 2019. This year we will have two youth leaders carry banner with our activist timeline following, while spectators stay put in the middle and cheer them on.)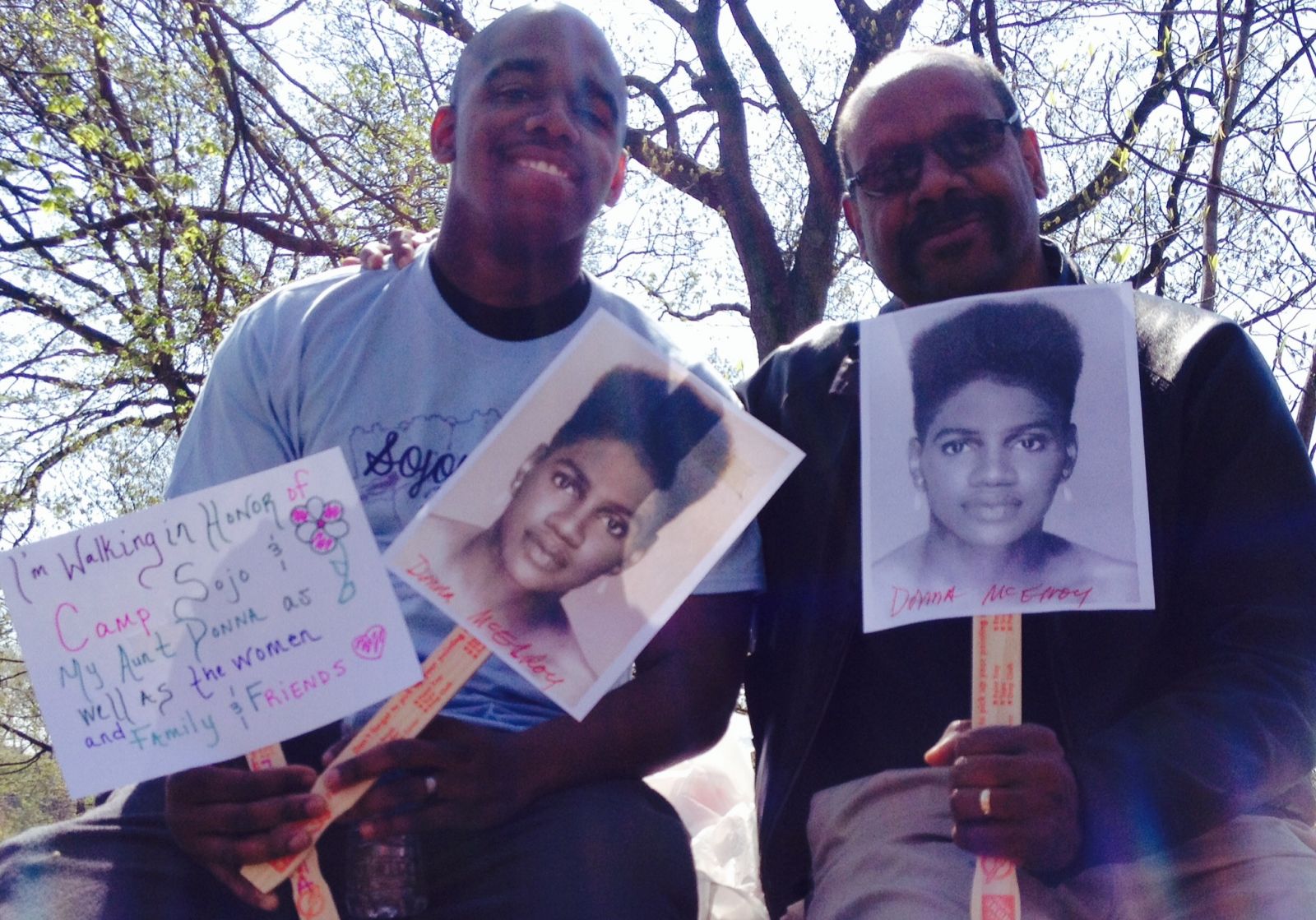 (Participants and their honorees.)
Sojourner Truth Walk 2021, Attend live virtual event!
For people best able to participate virtually, you can participate in the Sojourner Truth Walk 2021 via Zoom. We will do roll call of teams all at the same time, stream speakers and performers on Zoom, and when we showcase teacher honorees, we will highlight people both online and in-person. Online facilitators will keep things poppin, and we will share comments by online participants at the in-person event. Both groups will feel the Sojo love and connect with each other that day!
(One of the screens from Sojourner Truth Virtual Walk 2020)
Why teachers?
All participants are encouraged to participate this year in honor of a teacher they admire. If you attend the event in person, blank signs will be available for you to write their name and/or attach a photograph. If you attend virtually, you will be encouraged to hold up a sign at home during the event, celebrating the teacher you have chosen to honor.
This past year we have asked so much of our teachers, adapting to changing conditions and helping students adapt too, often with little notice and few resources. Parents/guardians forced to help students at home have also been teachers this year, and hopefully we all recognize now the hard work of skilled, caring adults supporting young people in their growth and learning, and the need for fair systems and resources for all young people and teachers. Sojourner Truth Walk participants can choose to define "teacher" however they choose in selecting an honoree, and can choose someone from their past or present. But we want to honor the hard work, dedication, and leadership of teachers in their many roles.
Here's how to participate in the 2021 Sojourner Truth Virtual Walk:
1) Register for the event on our walk website. There is a free registration option. You have to be registered by 5pm on Saturday May 22 in order to receive the Zoom information for the event on May 23.
2) Join or form a team if you are able, to help us raise money to support Philly girls and families during this time.
3) Post a picture of the teacher you are walking in honor of to your own social media, and use hashtag #SojoWalk2021. We will repost on our social media.
4) Participate in our live event on May 23, either in person or on Zoom.
CLICK here
to view pictures from previous Sojourner Truth Walk.
Notes about registration:
This is a family-friendly event--all are welcome!
Adult registration (18 and older) is $25 per person. Youth registration is $10. (Youth under 8 are not required to register but will not receive bandanas at the event.) Alternately, you may select "Fundraiser Registration" at zero cost, with the expectation that you will cover the registration fee through money raised with your fundraising page. If you do not raise the fee ahead of the walk, you will have the opportunity to complete your registration the day of the event, or you may not receive a bandana. Please reach out to us if you have special circumstances:
walkinfo@girlsleadershipcamp.org
. Virtual local participants can pick up their bandanas and finish line beads the week before event.
Fundraising page: When you register, you will automatically receive an email with a link to your fundraising page. This page is activated when you click on the link, and you are able to customize it with your own pictures and text. We encourage you to spread the word about the event to as many people as possible--friends, family, coworkers, everyone!
Create or join a team during the registration process. Alternately, you may join a team from your fundraising page. Teams are welcome to show their team spirit in a variety of ways (signs, props, costumes)--just make sure to support the overall theme of honoring women's and girls' leadership.
Proceeds
: All proceeds benefit
Camp Sojourner, Girls' Leadership Camp
, a nonprofit leadership development program for Philadelphia girls, which offers year-round leadership workshops, service projects, and arts programming along with our annual week-long summer camp -- all on a low-cost, sliding scale for families.
If you would like to make a donation by check, please address it to "Camp Sojourner / MAP"/ 801 S. 48th Street/ Philadelphia, PA 19143.
Here are a few examples of how your contribution can make an impact:
$25 = Summer camp t-shirts for 4 girls
$80 = Round trip transportation for 20 girls to participate in a local college tour
$100 = Cost of food and supplies for 1 leadership workshop for 20 girls
$350 = Suggested minimum family contribution for 1 girl to attend week-long overnight summer camp, or our two-week day
camp summer 2021.
$1250 = Actual cost to send 1 girl to week-long overnight summer camp or two-week day camp.
The event is named in honor of Sojourner Truth, an African-American woman who escaped slavery and then fought to end it, while also speaking out for women's rights and economic justice. She, along with many others, has served as an inspiration and role model for generations to come. We are walking in her footsteps!
Thank you for supporting the leadership of women and girls!