Safety is Our TOP Priority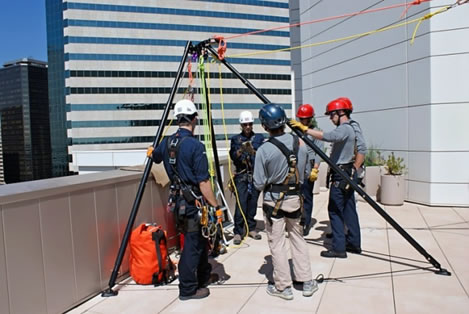 Every Over the Edge event is set up as an industrial worksite and as a result, is compliant with all federal and state OSHA Fall Protection Standards and OSHA Federal and State Laws. Further to this, our policies and procedures adhere to the best practices identified by
SPRAT
. This counsel is a strict regulatory body that has regimented guidelines and safety protocols that far exceed the OSHA , Workers Compensation and state labor codes.
Over the Edge is staffed with highly trained industrial ropes specialists.
All Over the Edge sites have highly trained industrial rope specialists, all of which are IRATA or SPRAT certified. Each site has a comprehensive Site Inspection & Safety Plan completed and if every potential risk cannot be mitigated, then the site will simply not be approved by our Operations Manager.
Safety Abstract
• OTE team's top priority is participant and facility safety
• The perceived risk of an OTE event is high versus the actual low risk
• Hundreds successful events
• 10,000s of participants
• Zero incidents: building and participant related
• Every OTE site is set up as an industrial work site
• Adherence to all National and State (global: "local") OSHA laws
• Adherence to SPRAT governing procedures
• Compliance with state (global: "local") workers' compensation coverage
• Clear run loss history since 2004
• $10 million occurrence and aggregate insurance policy
• Comprehensive site safety and building inspection plan
• Participant training