Thank you to all who have registered, donated, sponsored and raised awareness leading up to this year's virtual event! It's time to 5K your way. Find all virtual announcements and highlights below. We thank all of our survivors, participants, families and supporters who provided this content to help us tell the stories that drive our mission to find a cure for brain tumors.
Follow along on our
Facebook
and
Instagram
accounts throughout the day. We LOVE likes and comments - so use these posts as an outlet to share your day with everyone involved!
Watch the opening ceremony for the 2022 Virtual MN Brain Tumor 5K.
Courtney Burnett is a 31 year old internal medicine physician in Saint Paul, Minnesota living and working with brain cancer. Her brain tumor journey started in January, 2020 when she began to experience strange neurological symptoms. After two invasive brain surgeries, six weeks of radiation therapy, and six months of oral chemotherapy she was diagnosed with anaplastic astrocytoma. Watch this video to hear Courtney's story and learn about her memoir, Difficult Gifts, that was inspired by her diagnosis and published in February, 2021. Order her book and read her blog online.
Thank You to Our VIP Sponsor Ideal Credit Union
We say this all the time because it's SO important to remember - 100% of proceeds go directly to brain tumor research! This is ONLY possible thanks to our generous sponsors. Ideal Credit Union, our VIP Sponsor, has supported the 5K for the past 12 years not only monetarily but also with many volunteer hours put forth by its dedicated employees. Thank you Ideal CU!
Jenna Hirte is the team captain of Team Tumornators. A brain tumor survivor, this is Jenna's fifth year participating in the MN Brain Tumor 5K. Hear Jenna's story and how this year's event is especially important to her and her team.
Here with an update and special message for our virtual participants is Al Musella, founder of the Musella Foundation for Brain Tumor Research and Information, Inc. The foundation wholeheartedly appreciates the commitment of all the participants involved in making this event a success and who continue to drive awareness to this underfunded cause.
Lori was diagnosed with a brain tumor in 2014 and underwent surgery and six weeks of radiation therapy. That same year, Lori and her team, Lori's Monsters, started participating in the MN Brain Tumor 5K. The next year, Lori joined the volunteer planning committee to continue to raise awareness and help others throughout their brain tumor journeys. Today, Lori continues to write her own story and focus on her many priorities, including traveling the world and spending time with family.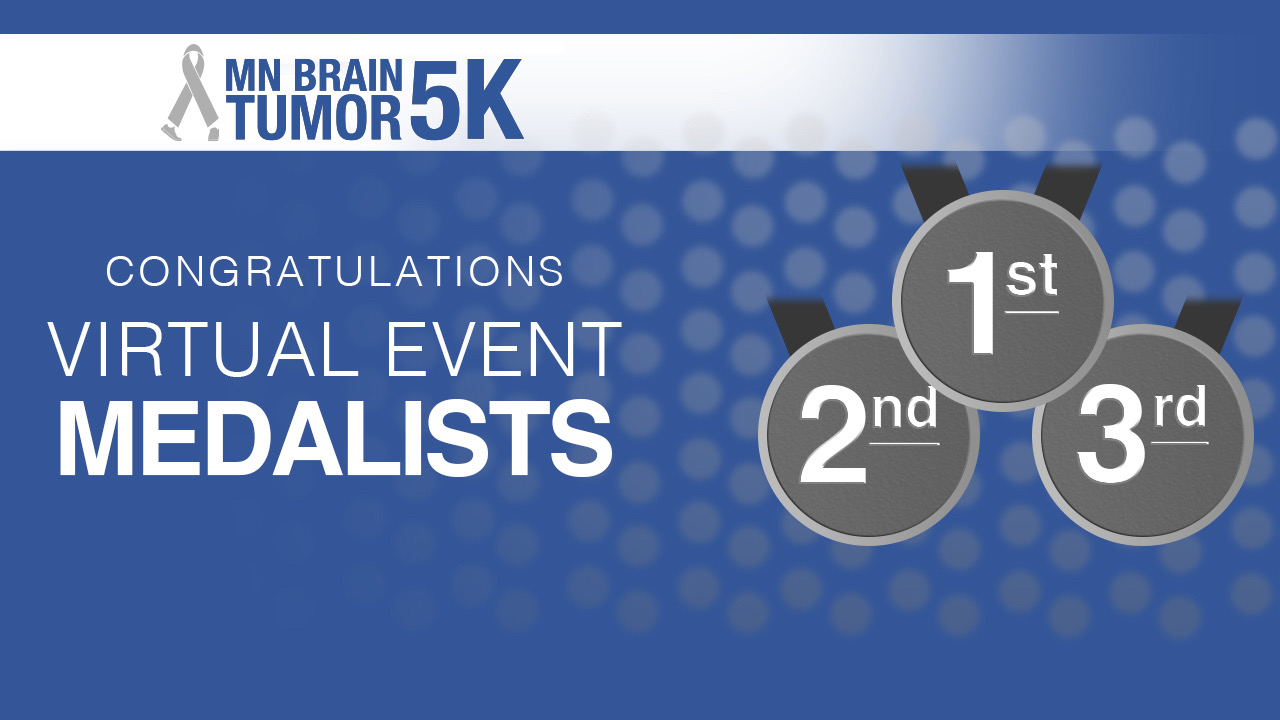 Congratulations to the Virtual Event Medalists! This year the top 3 finisher medals went to the top three men, women and youth participants who raised the most on their personal fundraising profiles as of 6:00 p.m. on Friday, May 13. The medalists are:
2nd:
(4-way tie)
Tom Albrecht, Jeremy Bovan, Mark Jaspers and Aaron Timm
2nd:
Julie Finley, plus - an honorable mention to Pam Norgard on the volunteer planning team!
2nd:
Christine Banaszewski
All medalists will be receiving their medals in the mail! Congratulations and thank you for raising SO MUCH for brain tumor research!
Congratulations to the Top Three Grand Prize winners! These three participants raised the most on their personal fundraising pages as of 6:00 p.m. on Friday, May 13. The winners are:
1st Place $300 Amazon Gift Card Winner:
Emmy Veenis
2nd Place $200 Amazon Gift Card Winner:
Christine Banaszewski
3rd Place $100 Amazon Gift Card Winner:
Shelly Jorgensen
Thank you to all who participated!