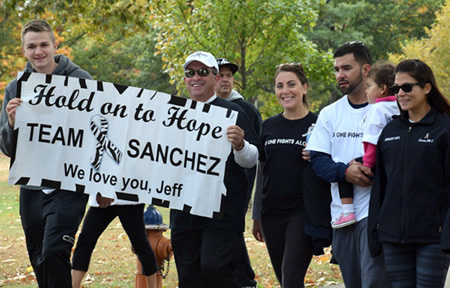 Every stride you take is a step in the right direction to improving the lives of thousands who suffer from Neuroendocrine Cancer (NET).
Since 2003 it has been our passion to educate and support the NET community by raising awareness for NET, providing support for caregivers and people with NETs, and funding NET cancer research. Strides for Stripes is one way we do all that with your help.
Money you raise goes directly to programs that assist NET patients, such as our NET Cancer Hotline, Patient Conferences, and educational webinars.
What do I have to do, Where, When?
Sign Up Now!
Registration is easy! Visit the Walk Home Page and select 'REGISTER TO PARTICIPATE.' Then simply follow the on screen instructions to register as an individual, join an existing team or create a team of your own. You may also choose to 'SPONSOR A PARTICIPANT' or 'SPONSOR THE WALK' from the Home Page.
As a virtual walker, you'll join hundreds of other participants all walking for the same cause. The great thing about a virtual walk is that you can participate at any time and from anywhere! Once registered for the walk, you can choose the date, time and location that works for you. Then, join other walkers online by posting photos and videos to your social media accounts. Join the conversation by tagging NCAN
Facebook, Linkedin, Twitter, Instagram @netcanceraware
Youtube @neuroendocrinecancerawaren6842
and using the hashtag #StridesforStripes
You get the idea! The challenge is to create awareness of neuroendocrine cancer in your neighborhood and raise money to fund programs like NCAN's patient hotline, free information packs, conferences, etc.
WHAT YOU GET WITH YOUR REGISTRATION:
• with a $50 registration fee you get one OFFICIAL 2023 Walk T-shirt.
1- IF YOU WANT A T-SHIRT, YOU MUST '
REGISTER TO PARTICIPATE.
' IF YOU 'SPONSOR A PARTICIPANT' YOU ARE MAKING A TAX-DEDUCTIBLE DONATION AND WILL NOT RECEIVE A SHIRT.
2-
FOR THE
VIRTUAL
WALK THE LAST DAY TO SIGN UP IS DECEMBER 1ST.
Fundraise!
We are excited you have chosen to participate. Follow the easy steps below to raise $500.
Are you ambitious and have set a higher goal for yourself than $500? Great! Simply adjust the minimum donation amount you're asking of each potential donor and/or increase the number of people you're going to ask.
Donate to yourself. It all begins with you!

Ask 4 family members to donate $25.00 each.

Ask 4 friends to donate $25 each.

Ask 4 co-workers to donate $25 each.

Ask your boss for a company contribution of $100.

Ask 2 local business you frequent to donate $25 each

.

TOTAL
$500
Use social media like Facebook, Twitter, etc. Send an e-blast and share what you are doing. Include your personal fundraising page link as well, so they can donate immediately. Ask friends for $25! Try choosing a different group of friends to target each week. The key is volume. $25 a person adds up quickly.
Act now! You can get started now by registering from the home page. We are grateful for your support. If you have any questions please call or email us.