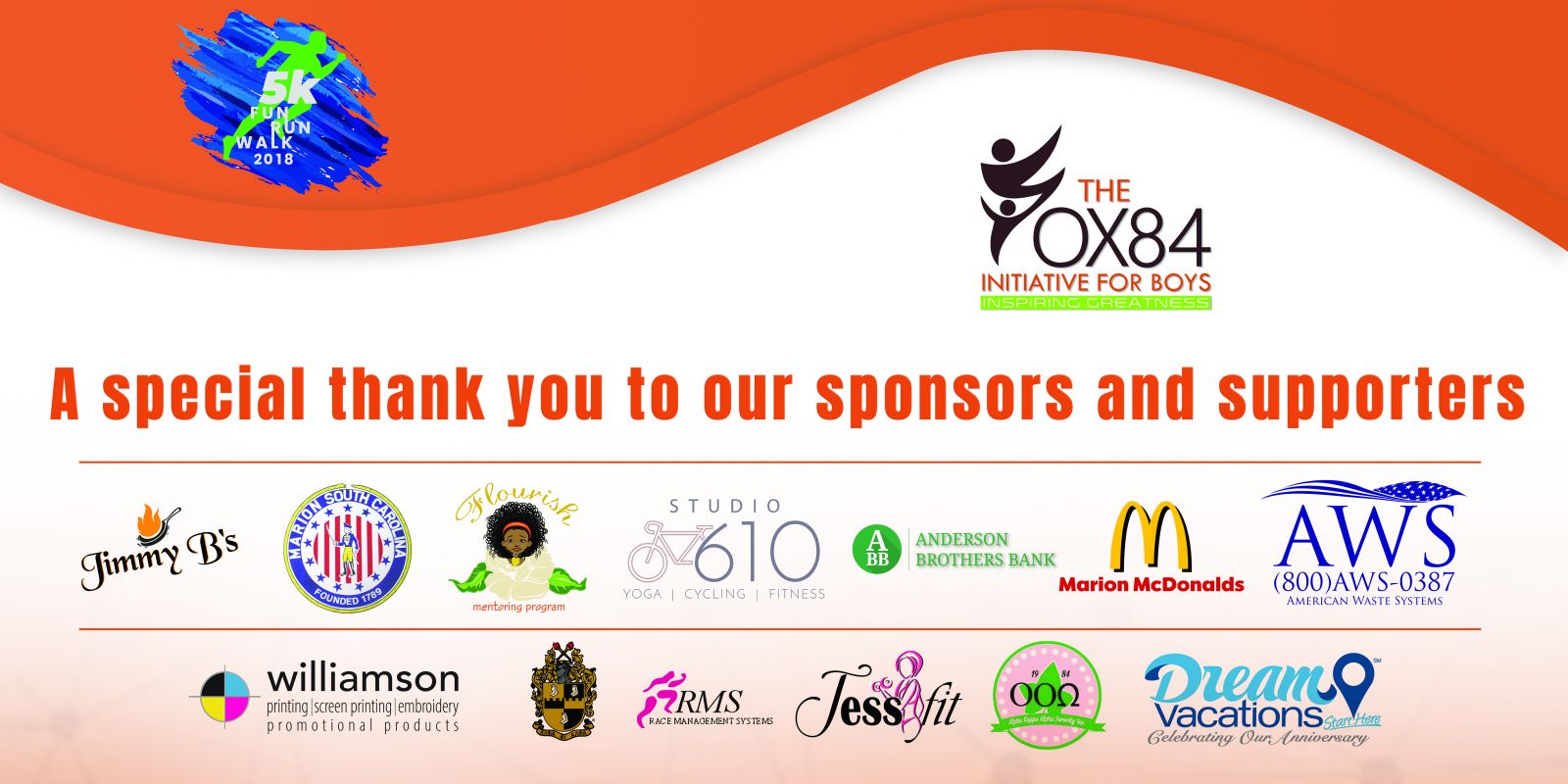 Sponsorship Opportunities
(Click here for your Tax Deductible sponsorship donation)
The Fox84 Initiative for Boys Annual 5K Fun Run/Walk held on May 4, 2019, is designed to raise money for a 2019 trip to New York City. We believe this trip will inspire initiative and prove to be an invaluable contribution to their personal development. Money from the 2018 Fun Run afforded the organization the ability to take ten young men on a 4-day exploration trip to Washington DC.
The Fox84 Initiative for Boys Annual 5K Fun Run/Walk has attracted active corporate partners such as Anderson Brothers Bank, McDonald's of Marion, Cricket, and Walmart just to name a few. These sponsors have chosen to become conference sponsors to take advantage of the opportunity to interact with community leaders, social groups, and local churches. We invite you to join this advantageous partnership.
The Fox84 Initiative for Boys Mentorship Program is a dynamic and influential group of men originally from Marion County eager to show our appreciation to vendors who support our efforts.
As a 5K event sponsor, you will receive recognition for your support based on the level of sponsorship you select. Representatives from your company are encouraged to attend the 5K event, where they will have numerous opportunities to meet and mingle with the 200 plus participants, guests, and media outlets.
Last years 5K was featured on WBTW Channel 13 News.
Sponsor representatives are introduced and publicly thanked for their participation at numerous times throughout the day and are welcome to attend all sessions and functions. Sponsors will also have their logos prominently displayed on banners at the starting line, finish line and in front of stage area.
Please help us be the difference in a young man by selecting your level of support for the 2019 3rd Annual Fox84 Initiative 5K Fun Run/Walk.
(May 4, 2019, Marion High School, 1205 S. Main Street, Marion SC, 29571)
through the online
www.wizathon.com/fox84-initiative-5K/
If you have any questions about the conference, please do not hesitate to contact Christopher Shelvin, Fox84 Initiative for Boys Chief Executive Officer, Cell: (704) 249-6199.
Click
Here
To Start Tax Deductable Sponsorship
Last year banner with sponsors: