It's generally difficult to keep the momentum very strong from start to finish within a fundraising campaign. The best thing you can do in order to deal with the fluctuations in energy is to prepare tasks to be completed at every stage. Let's start by organizing the campaign schedule, which usually lasts between 12-16 weeks.
Planning
The more effort you put into the preparation of your event, the better results you can expect. The following tasks should be assigned to individuals on the fundraising event team (staff and volunteers):
Coordinating the dates for launches, events, and PR campaigns
Planning fun activities for your participants leading up to the event (i.e. for a 5k offer coached training sessions)
Designing a website with event, organization, and donation information
Preparing emails and other forms of communication for your participants and donors
Soft launch
Time allowing, this launch should take place during the first 2 weeks of the campaign. The goal of the soft launch is to get an initial base of participants to sign-up and start soliciting sponsors in order to show momentum at the time that you launch to the wider community. Recruit team captains and past participants who believe in your cause and can tap into larger social networks. For more details on the soft launch,
see here
.
Hard launch
Following the soft launch is the hard launch, which takes place around the next 4-6 weeks of your campaign. This is when you go to the larger community with local advertising and social media. For more details on the hard launch,
see here
.
The Slump
Between your launches and final two weeks, you may see a drop in fundraising and motivation. Here are some tips to keep things moving:
Show appreciation and encouragement to participants doing well and to those who are struggling
Offer some incentives to participants that reach a certain fundraising goal (i.e. VIP status).
Send out fundraising tips, and coaching tips where relevant
Thank donors
Send out weekly progress reports and personal stories highlighting the critical function your organization provides
Contact the media and post to social media content that you've prepared in advance.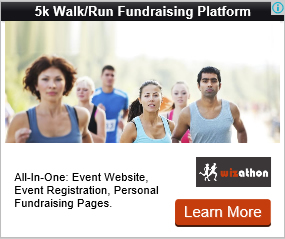 The Finish Line
The last 1-2 weeks are your final opportunity to publicize your event and collect donations. Concentrate on your best fundraisers and send out a final email appeal. Send your participants any last minute event information, and remain enthusiastic.
Follow up
Following the event, send out thank you's to your participants, donors, and staff members. Remind them to look out for next year's campaign!