Serious competition from a serious organization that does it all. The Mandel JCC of Cleveland recently held its Ninth Annual Triathlon and Biathlon at its state of the art fitness center. This outstanding community center, which opened its doors in 1948, provides a base for a wide variety of cultural, educational, camping, senior adult, and fitness programs for all who walk through their doors. This year's event goal was to support the Financial Assistance Program which provides aid to hundreds of families and individuals to they can participate in first-rate programs like Early Childhood, summer camps and other programs and services.
Sunday January 31st saw 130 individuals come together to engage in biking, running, and swimming. Medals were awarded to both men and women in first and second place within several age groups. Community members were asked to participate in the event and to help fundraise as well. The top fundraiser and fundraising team received special prizes. Nine of twelve teams reached 100% of their targeted fundraising goals, and $45,000 was raised in total.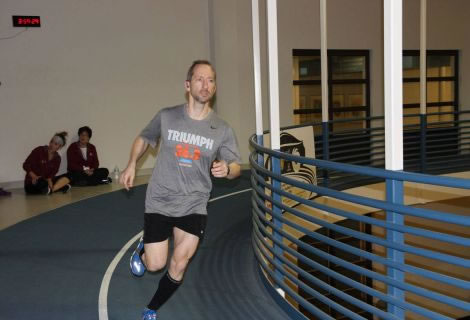 The event was well coordinated by Daryn Herman, who utilized the Wizathon registration and fundraising platform for a second year in a row. Emails were sent to current and past participants on a regular basis to provide encouragement, tips, updates, and athlete spotlights.
Each participant was set up with a personal fundraising page upon registration. This way, each participant could customize their page with a photo and personal message, and share their progress with hundreds of contacts. A new Wizathon feature allows for badges on the participant's home page and participant list page when a certain monetary goal was met. "The badges upon reaching a new fundraising level gave athletes a new built in incentive", says Herman.
Additionally, the Wizathon team built the website, supported the database, and included sample text for emails, enabling the organization to thank sponsors and connect with registrants efficiently. Since this was JCC's second event with Wizathon, there was an option to register with last year's login information and connect with previous team members and sponsors.
Daryn believes that what makes Wizathon unique is the excellent customer service and the peer to peer fundraising module. In her own words, "Wizathon is extremely user friendly. I've never run into any problems regarding athletes or donors not being able to figure something out because the Wizathon system is very simple and easy to navigate. When I ask a question, I have a response usually within an hour either by email or phone."